Camping is loved by many people, especially when they want to get away from the city or crave adventure. For those who enjoy outdoor activities such as camping, and trekking, it is beneficial because it allows them to focus on their hobbies without outside distractions away from the city rush. We want you to pack your bags and get on your next camping trip with our guide to the 7 best campsites in India for experiencing nature at its best.
What makes this list unique – In our list, we have divided campsites in India into categories and given our top picks for each camping category, and the best time to visit that campsite.
Categories Of Campsite in india
Northern Range Camping
Southern Range Camping
Camping in National Parks
Desert Camping
White Sand Camping
Riverside Camping
Personal Camping
1. Northern Range Campsite in Spiti Valley, Himachal Pradesh
If you have ever thought about camping in the Himalayas, this is a perfect spot to do so. Camping under a gazillion number of visible stars overhead, camping in Spiti Valley is an experience in itself and a MUST in our opinion. This can be an amazing place to do so, especially for the first-time goers. You can visit the official website of Himachal tourism to know in-depth details about Spiti.
Best Time to Visit – July to November
2. Southern Range Campsite in Kodanad, Tamil Nadu
A place near Ooty, Kodanad is one of the must-visit places in TamilNadu. This campsite is located in a quiet little part of Nilgiris which remains largely unexplored. Perched at an altitude of 1900 meters, the campsite offers a breathtaking panoramic view of Moyar Valley, Rangaswamy Peak & Bhavani Sagar Dam. Spend your weekends exploring tribal settlements, bathing in frozen waterfalls, bathing in forest streams, and following quiet trails for scenic views, campfires, and delicious meals under the stars. You can enjoy a cold night in a tent while doing it.
Best Time to Visit – December to March
3. National Parks Campsite in Jim Corbett National Park
India's first national park deserves the top of our list. Located in the Terai region of Uttarakhand, it was established in 1936 to protect Bengal tigers. The lush hills, dense forest cover, and wide open grasslands around it are prime territory for big cats. In addition, the park is home to about 650 species. The five zones of Corbett National Park are as follows – Dikala, Bijrani, Jirina, Durga Devi, and Dera are open to tourists. There are camp sites in the buffer zones of this forest where you can enjoy the peace and quiet of a jungle from a safe distance. To know more details about Jim Corbett you can visit the official website of Corbett National Park.
Best Time to Visit – October to February.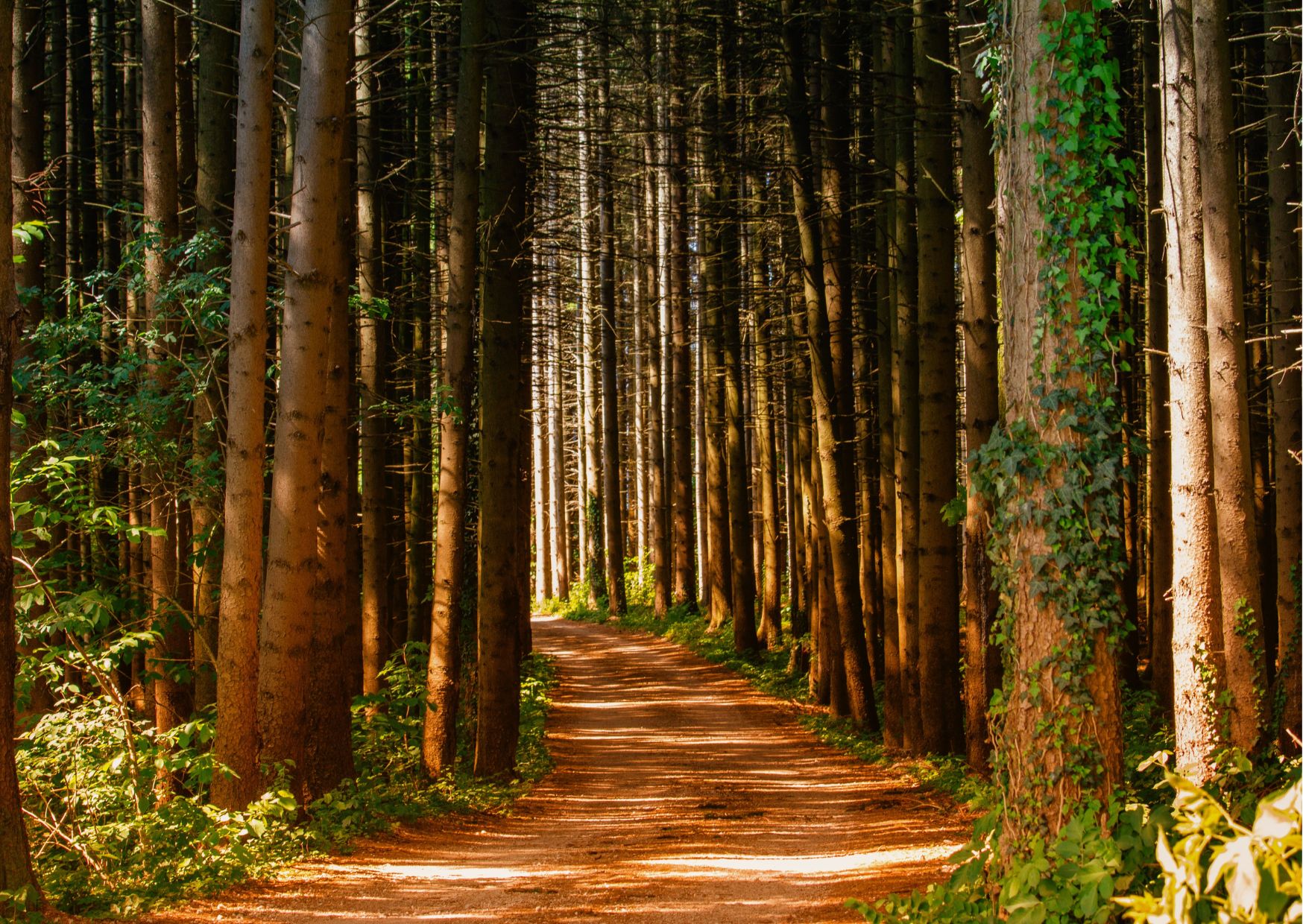 4.Desert Campsite in Jaisalmer, Rajasthan
Jaisalmer, also known as the golden city of Rajasthan, has the taste of the authenticity of Rajasthan and is arguably the best place to go for desert camping in India. The dune landscape, culture, and yellow sandstone are the unique things about this place. Jaisalmer fort can also be visited during your stay there and it can be spotted from around the city. At night dancing with locals around the bonfire is some of the traditions here. If you're a fan of desert safari on Thar or camel riding around the desert, this is the place for you. To know more about Jaisalmer tourism , you can visit the official website of Jaisalmer for tourists here.
Best Time to Visit – November to February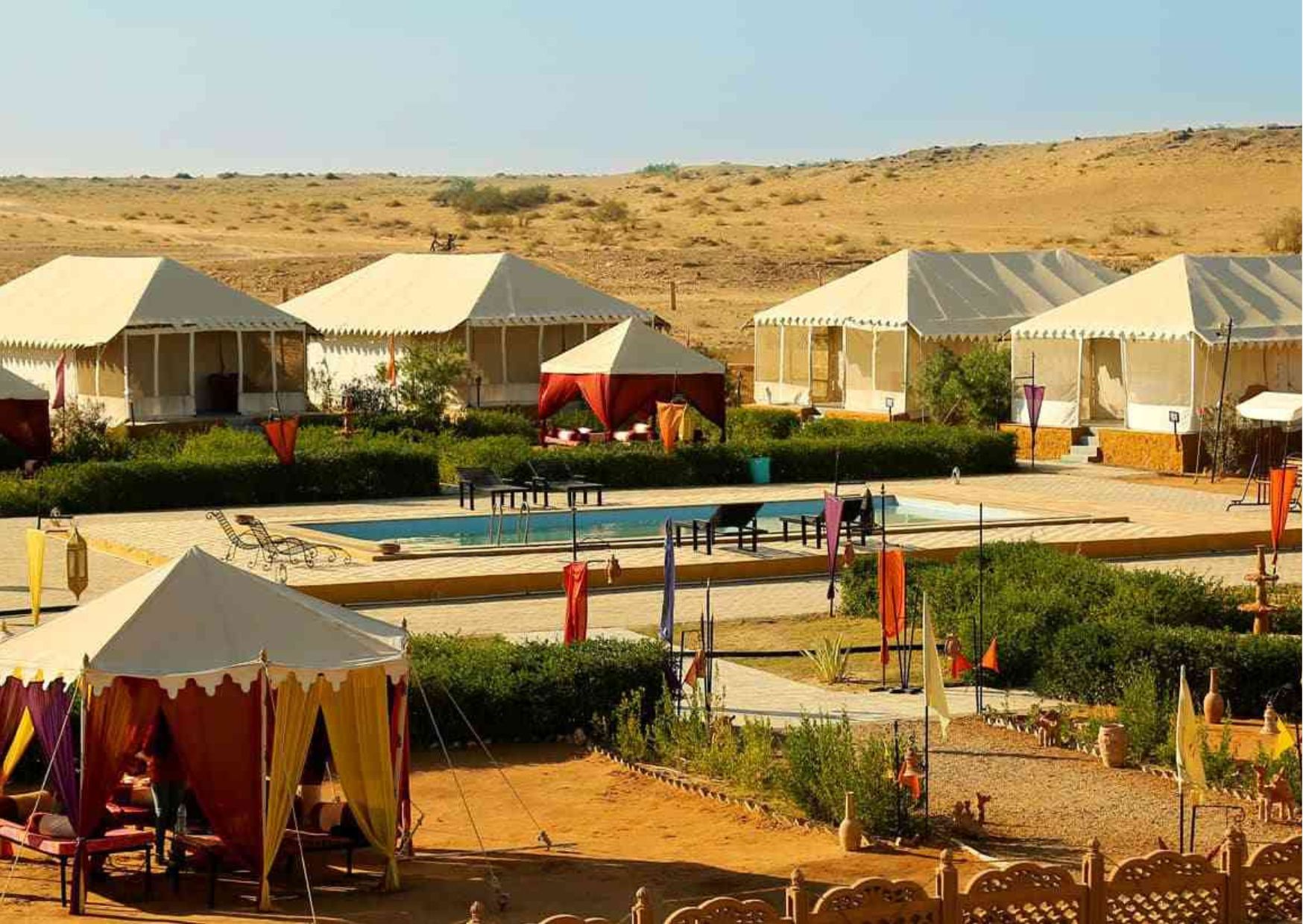 5. White Sand Campsite in Kaudiyala, Rishikesh
Kaudiyala is located on the banks of the River Ganga. The white sand beaches on the banks are occupied by many adventure camps and organisers. White sand camping is known not only for its daytime views but also for reflecting moonlight in the sand where the sand glows just like the pure white moon during the night, hence you can enjoy the mesmerising view there. For camping in kaudiyala, you can stay in organised camps or pitch your tents.
Best Time to Visit – March to June
6. Riverside Campsite in Anjuna beach, Goa
When thinking of camping beachside in a peaceful area, south goa is best suited for that. Camping at Anjuna beach is an amazing way to enjoy a holiday in Goa. Natural beauty is abundant, with breathtaking sunrise and sunsets. The waters are lapping the beach and here you can enjoy water sports activities like swimming, parasailing, scuba diving, banana riding, amongst others.
Best Time to Visit – July to December
7. National Park Campsite in Ranthambore National Park
Ranthambore national park is situated near the Sawai Madhopur town of Rajasthan. It is known for its wide range of animals and the famous 'The Bengal tiger'. Due to its enormous diversity of flora and wildlife, the national park is well-known among tourists not just for camping but also for its jungle safari. Here, night camping is a lot of fun and offers you the adventure of staying in a jungle away from busy cities. To know more about Ranthambore national park, you can visit the official website here.
Best Time to Visit – November – April

These were our top 7 picks for campsites in India. Although there are a lot more places to explore for campsites, with India's natural beauty you can set up  camps in remote areas as far from civilization as possible. In fact, India has many beautiful places for adventurous campers. If you're looking for a gadget to carry while camping, you might want to check out our top 13 gadgets list to carry for campers. And if you're looking for a one-stop solution for your camping safety, then checkout our product Smart Stick Guardian which makes you adventure ready while being safe. With its features like- panic alarm mode, Stun Gun and Multi Mode Lighting- you can feel safe and explore the unknown without any fear.